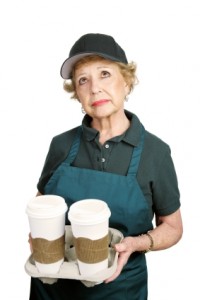 Mom (who is 70) is on Social Security and worked part time at Burt's FastBurgers to earn a little extra and socialize a bit more than she might otherwise be able to (Dad died a few years ago and she likes to get out).
Of course, sometime in January she got a W-2 from Burt's as well as a couple of 1099s with interest income on a number of CDs.  Being the good boy/girl that you always have been, you are gathering up a 1040, the 1099-SSA, the W-2, and other forms and getting ready to figure out Mom's taxes.  But wait! Do you REALLY need to file?
You may not need to. If Mom's "gross income" is less than $10,950 ($9,500 if she was under 65 . . . but she's not) you might be able to find something else to do other than fill out Mom's tax returns. By the way, had Mom been married, and both she and Hubby were over 65 and they were filing jointly, the magic "file/no file" number would have been $21,300, and if just one of them was over 65, the number would have been $20,150. But back to single Mom over 65: $10,950 is the magic number. The question is: How does the Social Security she received count?
Look at the 1099's (except from Social Security) and the W-2 from Burt's and add them up. Let's say the Burt's W-2 shows $6,500 gross income paid, and the 1099-INT forms from the banks show interest income on the CDs of $3,000. Mom's total gross income from sources other than Social Security is $9,500.
Figure Out How Much The Social Security Might Count
Now take a look at Mom's 1099-SSA. Let's say Social Security paid Mom total benefits of $19,200 during the year. Divide that by half. That equals $9,600.
Add half the Social Security paid to the total of other income received by Mom. $9,600 + $9,500 = $19,100.
If half the Social Security benefits and the total of all other income is $25,000 or less, then none of the Social Security counts. In Mom's case the number was $19,100 . . . which we all realize is less than $25,000. Therefore, Social Security will not enter the tax picture.
That Leaves Us With . . .
Mom had non-Social Security earnings of $9,500. You are able immediately to surmise that Mom's "gross income" is less than $10,950. Stuff the W-2 and the 1099s back in the envelope to give back to Mom. Sweep the blank tax return forms into the trash. Go watch Dancing With the Stars . . . you're off the hook!
What if Mom's income from Burt's and the CDs is $12,000, but when added to half her Social Security benefits is less than $25,000?  Or what if half of Mom's Social Security and all other income exceeds $25,000? Turn off the TV, and read the next article. We have a little work to do.

3 Responses to "Could These Facts Help You Avoid Filing A Tax Return?"
Post Comments Feed: RSS 2.0