Archive for the 'Medicare' Category
June and Ward Cleaver's Saga Continues. A Recap: Mossy Mountain Health and Rehab recently telephoned Mrs. Cleaver and told her that husband Ward was no longer making progress in his rehab therapy and Medicare would no longer pay for services. Ward had been admitted to Mossy Mountain after having suffered a stroke. Because Ward has a host of other health issues, Mossy Mountain is moving Ward to a general skilled nursing services bed . . . but Mossy Mountain told Mrs. Cleaver she needs to get them a check by Friday.
In another article, I discussed why Ward likely does continue to qualify for Medicare nursing home payments . . . at least until his 100 days are used.
What can Mrs. Cleaver do?
Advance Beneficiary Notice Requirements
Mrs. Cleaver did not receive valid notice that could result in the proper termination of services. [NOTE: Dear readers . . . I am putting some legal citations in here for the benefit of my lawyer and nursing home readers. Sorry!] Pursuant to Centers for Medicare and Medicaid Services (CMS – the federal outfit that runs Medicare) regulation, "[b]efore any termination of services, the provider of the service must deliver valid written notice to the beneficiary of the provider's decision to terminate services." 42 CFR § 405.1200(b) (my emphasis). To be sufficient, the notice must be both valid and written. A telephone conversation with a patient's representative is neither written nor valid.
To be valid, a written notice must be provided "no later than 2 days before the proposed end of the services." 42 CFR § 1200(b)(1). Clearly, if Mossy Mountain things Medicare benefits ought to be terminated, they need to give Mrs. Cleaver written notice at least two days before the proposed cutoff date. What happens if there is no valid written notice?
The nursing home pays, that's what. Regulations specify that "[a] provider is financially liable for continued service until 2 days after the beneficiary receives valid notice as provided under paragraph (b)(3) . . . ." 42 CFR § 405.1200(b)(5). Regulations further specify that valid delivery occurs only as of the date of receipt of a valid notice acknowledged in writing by beneficiary on the face of the notice. 42 CFR § 405.1200(b)(3).
Why is valid written notice so important? Because, to be valid, the notice must explain why the nursing home believes Medicare payment is no longer warranted, when an appeal must be lodged, where an appeal must be lodged, and what the appeal rights are.
Remember, notice must contain all the information necessary to make it valid, and it must be delivered at least two days before the proposed Medicare cutoff. Without meeting those requirements, the nursing home is on the hook.
What if Mrs. Cleaver believes Ward should be entitled to Medicare (because he still needs skilled nursing services, or maybe he needs rehab in order to prevent a decline . . . read on below)? How does she appeal?
How to Make an Expedited Appeal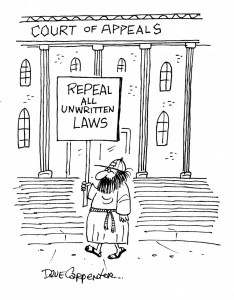 Had Mrs. Cleaver received a valid written notice of proposed Medicare nursing home discharge, it would have told her that she had until noon the day following her receipt of the notice to lodge an expedited appeal of Medicare termination. 42 CFR § 405.1202(b)(1). She could fax, or even telephone her appeal, to the number shown on the notice. The appeal is given to something called a Quality Improvement Organization or "QIO" which is an independent contractor staffed with medical and other personnel. In North Carolina the QIO is Carolinas Center for Medical Excellence in Raleigh; in Georgia it is Alliant GMCF in Atlanta. Mrs. Cleaver could submit additional information (if she had time for her regular family physician to submit an additional opinion, it would be very helpful).
The QIO should render a decision within 72 hours. During the pendency of the appeal, the nursing home cannot bill Mrs. Cleaver. 42 CFR § 405.1202(g). The QIO will telephone Mrs. Cleaver with its decision, and follow that up with a written decision letter a few days later.
What if Mrs. Cleaver disagrees with the QIO?
Mrs. Cleaver can appeal the proposed Medicare nursing home discharge to the Qualified Independent Contractor or "QIC" having oversight authority with respect to QIO decisions. The QIC for the eastern US (which includes both Georgia and North Carolina) is Maximus Federal Services based in Pittsford, New York
If Mrs. Cleaver wants to take it to the next step (which I advise if you sincerely believe you are correct . . . this next step is extremely easy . . . so why not?) she has until noon the day after she receives the initial notification from the QIO (and, yes, that includes by telephone!) to call in or fax an appeal to the QIC. 42 CFR § 405.1204.
Be careful! If the QIO in Raleigh or Atlanta calls and says, "We agree with Mossy Mountain, Mr. Cleaver is not entitled to Medicare coverage. We'll send you a letter in a day or two" you have until noon the following day to request QIC reconsideration.
The QIC will take a fresh look at the file and consider any other information you have (perhaps another doctor looked at Ward in the last day or two). The QIC will notify all parties within 72 hours of its decision (usually by telephone, followed up by a letter).
What if Mrs. Cleaver Disagrees with the QIC?
The QIC decision will describe what further steps may be taken. At this point, things begin to slow down, and Mrs. Cleaver is no "on the hook" for payments to Mossy Mountain, unless Ward can qualify for Medicaid. There is still some hope.
The next appeal level is to an administrative law judge (ALJ).
The Bad News: These appeals take much longer and Mrs. Cleaver should probably hire an attorney to handle the appeal at this level (if she hasn't already been working with an attorney). The hearing before a federal ALJ is usually handled via a video hookup. The Good News: The chances of success increase dramatically at the ALJ level because the judge will look more carefully at the law and facts. More Good News: If Mrs. Cleaver wins, she should receive a reimbursement of all that she had to pay Mossy Mountain while Ward would have been eligible for Medicare had they not made the incorrect decision.
Why The Standard Is No More.
What To Do If The Nursing Home Says It Applies.
Has this happened to you?
The nursing home calls. "Mrs. Cleaver, Ward is failing to progress in his therapy and because of that he will no longer be eligible for Medicare benefits after Thursday . . . you'll need to make arrangements to start paying us on Friday."
Ward was admitted to Mossy Mountain Health and Rehab 20 days ago for rehab after having a stroke 30 days ago. On the day of his stroke he was rushed to Shady Valley General and after a few days in ICU and a week of other treatment was discharged to Mossy Mountain for rehab. In addition to the ongoing paralysis from his stroke, Ward also suffers from a number of other serious health conditions (perhaps aggravated by his stroke) and his "regular" family doctor says he very likely needs to remain in a skilled nursing environment.
Mrs. Cleaver meets with me a few days later and tells me "we need to hurry and get Ward on Medicaid because I can't afford to pay Mossy Mountain $8,000 a month." After determining that Ward is on "regular" or "traditional Medicare Part A and Part B [CAUTION: What I discuss in this article applies to "traditional" Medicare Part A and Part B . . . Medicare Advantage Plans have different requirements and appeal rights], I ask Mrs. Cleaver if she ever received a written notice from the nursing home that Ward was no longer eligible for Medicare payment. "No . . . they just called me and told me." She then tells me that the nursing home has moved him to a "regular" room where he can receive monitoring of, and help with, his other health conditions. But they want money NOW.
Mossy Mountain is wrong. Ward is entitled to Medicare coverage. Mrs. Cleaver should appeal.
First, let's discuss why Ward is entitled to continued Medicare coverage. Then we'll discuss how to appeal the denial in the February 15, 2013, issue of Elder Law Update.
Ward probably IS entitled to Medicare reimbursement because there is no such thing as a "failure to progress" standard for Medicare. Also, even if Rehab Services were neutral (neither hurting or helping Ward), he still needs skilled level of care that will be reimbursable by Medicare. I'll explain.
[NOTE: Dear readers . . . I am putting some legal citations in here for the benefit of my lawyer, nursing home, and professional caregiver readers. Sorry! Be brave.]
FIRST: A Few Medicare Basics
Medicare pays a limited amount of nursing home care, but the care that is paid can be critical to the patient. In order to qualify, however, the patient must meet specific requirements.
First, the patient must have been an inpatient in a hospital for at least three days. 42 USC § 1395x(i). Second, the patient must be admitted to the nursing home for at least one of the underlying conditions treated in the hospital OR for a condition which arose in the nursing home after his admission from the hospital for treatment of one of the conditions for which he was hospitalized. 42 USC § 1395f(a)(2)(B).
Third, the nursing home resident must receive skilled level of care on a daily basis. "Skilled services" actually cover a broad array of services. A common reason given for cutting off Medicare coverage is that "skilled services" are no longer needed when, in fact, the patient indeed requires skilled services as broadly defined under the Medicare regulations. 42 USC § 1395f(a)(2)(B).
What is "Skilled"?
Skilled services are services that require technical or professional personnel such as registered nurses, licensed practical nurses, physical, occupational or speech therapists. In order for a service to qualify as "skilled", it must be so inherently complex that it can only be safely and effectively performed by, or under the supervision of, professional or technical personnel.
Importantly, skilled services can include "observation and assessment of a changing condition" as well as "overall management and evaluation of a care plan". So, for example, monitoring of fluid and nutrient intake might be necessary to prevent dehydration.
The Level Truth About Plateaus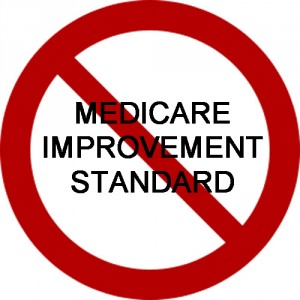 Nursing homes have been requiring a resident to show improvement or progress in order to continue skilled services and maintain her Medicare coverage. If a resident "plateaus", or the nursing facility says the resident no longer has rehabilitation potential, the facility may deny her further coverage. Denying Medicare coverage for this reason is improper.
The Medicare regulations are clear that "restoration potential" is not a valid reason for Medicare coverage denial. Other regulations provide coverage for "maintenance programs based on initial evaluations and periodic assessments". The confusion should clear up soon . . . a federal court case settlement with the Center for Medicare and Medicaid Services (CMS – the federal outfit that runs Medicare) will have effects throughout the country.
The Jimmo Case
In Jimmo v. Sibelius, No. 11-cv-17 (D.Vt.), the federal court for the District of Vermont finalized a settlement between the parties, including CMS, on January 24, 2013. The final settlement, with the force of law, recognizes that the "improvement standard" is an erroneous application of the law. CMS has also agreed to undertake a program to educate all providers and contractors throughout the United States that the "failure to progress" standard is not, and has never been, an appropriate standard.
CMS has also agreed to implement a procedure to review cases that were denied Medicare benefits on the basis of "failure to improve" on or after January 18, 2011. The procedures are to be announced.
If you or a loved one are denied Medicare benefits on this basis, you should appeal the denial. The appeal process will be discussed in a February 15, 2013 post (the next issue of Elder Law Update).
You may download a copy of the settlement at http://bit.ly/10SkCO1.
OK . . . What If Rehab Was Neither Helping Nor Preventing Decline?
If Rehab services for Ward really were NOT medically necessary because the therapy was not helping Ward to improve OR preventing him from further decline, the next question is whether Ward continues to need some other kinds of skilled services other than rehabilitation services. Because Ward has been
moved to a general skilled bed at Mossy Mountain and his doctor says he needs to remain at Mossy Mountain, it seems that Ward does need skilled services on a daily basis (although perhaps not rehabilitation services).
Nevertheless, Mossy Mountain says that Ward no longer qualifies for Medicare nursing home payments.
The confusion for many nursing homes is a result of misunderstanding the rules that relate to the conditions for initial admission to the nursing home necessary to secure Medicare reimbursement. They don't read the WHOLE rule. For the sake of clarity, here is the relevant part of the rule:
[To be eligible for Medicare reimbursement in a skilled nursing facility, the patient] needs or needed on a daily basis skilled nursing care . . . for any of the conditions with respect to which he was receiving inpatient hospital services . . . prior to transfer to the skilled nursing facility [NOTE: This is where most folks stop reading!] OR for a condition requiring such extended care services which arose after such transfer and while he was still in the facility for treatment of the condition or conditions for which he was receiving such inpatient hospital services.
42 USC § 1395f(a)(2)(B).
Accordingly, if Ward had been admitted to Mossy Mountain for rehabilitation services and later was said to have "plateaued" or was "failing to progress" he would remain entitled to Medicare reimbursement if the rehab therapy was necessary to enable him to maintain his condition and not regress. Even if it was later determined that rehabilitation services were not medically necessary because Ward would not benefit from them (he would neither improve nor decline as a result of having or withholding those services), but it was determined that Ward required skilled services for other conditions, he would be entitled to Medicare reimbursement.
If Mrs. Cleaver had read this article and believed that Ward was entitled to continued Medicare reimbursement notwithstanding the telephone call from Mossy Mountain . . . what could she have done?
Read how she could appeal . . . quickly . . . and cheaply.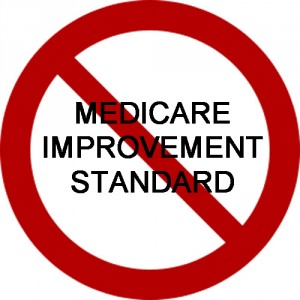 The false Medicare "Improvement Standard" under which the Medicare program and its payment contractors have sought to deny nursing home and other benefits for individuals who "fail to progress" or who have "plateaued" is about to be buried. The funeral is scheduled sometime after the first of the year. Good riddance.
Almost two years ago I wrote (see Busting the Medicare "Plateau" Myth that nursing homes, Medicare payment contractors, and Medicare appeals contractors were incorrectly applying federal law to require patients and residents to show progress under treatment in order to continue to be eligible for Medicare nursing home benefits.
Federal law requires no such standard.
Settlement Agreement Ends the "Improvement Standard"
As I reported, a number of federal cases were "percolating" through the system and had potential to clarify the errors. One such case is Jimmo v. Sebelius, No. 11-cv-17 (D. Vt.), filed January 18, 2011.
On October 16, 2012, the Centers for Medicare and Medicaid Services (CMS) and a class of affected plaintiffs agreed to a settlement agreement in the Jimmo case and submitted it to a federal judge for final approval.
An October 24 New York Times editorial, "A Humane Medicare Rule Change," noted the proposed settlement reverses an "irrational and unfair approach to medical services" that developed "over decades because of Medicare's fragmented and loosely administered process for handling beneficiary claims." The editorial praised the settlement as "clearly the humane thing to do for desperately sick people with little hope of recovery."
What It Could Mean For You
When the Jimmo settlement is approved sometime in the next few months CMS will be required to take definite steps to end the erroneous standard on a national level. This will involve a nationwide educational campaign to inform health care providers, Medicare contractors, and Medicare adjudicators that they should not limit Medicare coverage only to beneficiaries who have the potential for improvement. Instead, providers, contractors, and adjudicators must recognize "maintenance" coverage and make decisions based on whether a beneficiary needs skilled care that must be performed or supervised by a professional nurse or therapist.
CMS recognizes that the settlement does not change the underlying law and regulations governing the Medicare program. Because the underlying Medicare law has not changed, nursing homes and other health care providers should implement the maintenance standard now.
Because Jimmo will be certified as a nationwide class, it could have implications for people in both North Carolina and Georgia.
That is because the settlement establishes a process of "re-review" for Medicare beneficiaries who received a denial of skilled nursing facility care and other services as a result of the of the Improvement Standard after January 18, 2011.
Shortly after the federal district court approves the settlement, CMS will announce how beneficiaries can invoke the re-review process. Updates will be posted on the Mason Law, PC, website as more information becomes available.