Archive for the 'Nursing Homes' Category
June and Ward Cleaver's Saga Continues. A Recap: Mossy Mountain Health and Rehab recently telephoned Mrs. Cleaver and told her that husband Ward was no longer making progress in his rehab therapy and Medicare would no longer pay for services. Ward had been admitted to Mossy Mountain after having suffered a stroke. Because Ward has a host of other health issues, Mossy Mountain is moving Ward to a general skilled nursing services bed . . . but Mossy Mountain told Mrs. Cleaver she needs to get them a check by Friday.
In another article, I discussed why Ward likely does continue to qualify for Medicare nursing home payments . . . at least until his 100 days are used.
What can Mrs. Cleaver do?
Advance Beneficiary Notice Requirements
Mrs. Cleaver did not receive valid notice that could result in the proper termination of services. [NOTE: Dear readers . . . I am putting some legal citations in here for the benefit of my lawyer and nursing home readers. Sorry!] Pursuant to Centers for Medicare and Medicaid Services (CMS – the federal outfit that runs Medicare) regulation, "[b]efore any termination of services, the provider of the service must deliver valid written notice to the beneficiary of the provider's decision to terminate services." 42 CFR § 405.1200(b) (my emphasis). To be sufficient, the notice must be both valid and written. A telephone conversation with a patient's representative is neither written nor valid.
To be valid, a written notice must be provided "no later than 2 days before the proposed end of the services." 42 CFR § 1200(b)(1). Clearly, if Mossy Mountain things Medicare benefits ought to be terminated, they need to give Mrs. Cleaver written notice at least two days before the proposed cutoff date. What happens if there is no valid written notice?
The nursing home pays, that's what. Regulations specify that "[a] provider is financially liable for continued service until 2 days after the beneficiary receives valid notice as provided under paragraph (b)(3) . . . ." 42 CFR § 405.1200(b)(5). Regulations further specify that valid delivery occurs only as of the date of receipt of a valid notice acknowledged in writing by beneficiary on the face of the notice. 42 CFR § 405.1200(b)(3).
Why is valid written notice so important? Because, to be valid, the notice must explain why the nursing home believes Medicare payment is no longer warranted, when an appeal must be lodged, where an appeal must be lodged, and what the appeal rights are.
Remember, notice must contain all the information necessary to make it valid, and it must be delivered at least two days before the proposed Medicare cutoff. Without meeting those requirements, the nursing home is on the hook.
What if Mrs. Cleaver believes Ward should be entitled to Medicare (because he still needs skilled nursing services, or maybe he needs rehab in order to prevent a decline . . . read on below)? How does she appeal?
How to Make an Expedited Appeal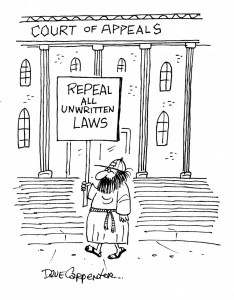 Had Mrs. Cleaver received a valid written notice of proposed Medicare nursing home discharge, it would have told her that she had until noon the day following her receipt of the notice to lodge an expedited appeal of Medicare termination. 42 CFR § 405.1202(b)(1). She could fax, or even telephone her appeal, to the number shown on the notice. The appeal is given to something called a Quality Improvement Organization or "QIO" which is an independent contractor staffed with medical and other personnel. In North Carolina the QIO is Carolinas Center for Medical Excellence in Raleigh; in Georgia it is Alliant GMCF in Atlanta. Mrs. Cleaver could submit additional information (if she had time for her regular family physician to submit an additional opinion, it would be very helpful).
The QIO should render a decision within 72 hours. During the pendency of the appeal, the nursing home cannot bill Mrs. Cleaver. 42 CFR § 405.1202(g). The QIO will telephone Mrs. Cleaver with its decision, and follow that up with a written decision letter a few days later.
What if Mrs. Cleaver disagrees with the QIO?
Mrs. Cleaver can appeal the proposed Medicare nursing home discharge to the Qualified Independent Contractor or "QIC" having oversight authority with respect to QIO decisions. The QIC for the eastern US (which includes both Georgia and North Carolina) is Maximus Federal Services based in Pittsford, New York
If Mrs. Cleaver wants to take it to the next step (which I advise if you sincerely believe you are correct . . . this next step is extremely easy . . . so why not?) she has until noon the day after she receives the initial notification from the QIO (and, yes, that includes by telephone!) to call in or fax an appeal to the QIC. 42 CFR § 405.1204.
Be careful! If the QIO in Raleigh or Atlanta calls and says, "We agree with Mossy Mountain, Mr. Cleaver is not entitled to Medicare coverage. We'll send you a letter in a day or two" you have until noon the following day to request QIC reconsideration.
The QIC will take a fresh look at the file and consider any other information you have (perhaps another doctor looked at Ward in the last day or two). The QIC will notify all parties within 72 hours of its decision (usually by telephone, followed up by a letter).
What if Mrs. Cleaver Disagrees with the QIC?
The QIC decision will describe what further steps may be taken. At this point, things begin to slow down, and Mrs. Cleaver is no "on the hook" for payments to Mossy Mountain, unless Ward can qualify for Medicaid. There is still some hope.
The next appeal level is to an administrative law judge (ALJ).
The Bad News: These appeals take much longer and Mrs. Cleaver should probably hire an attorney to handle the appeal at this level (if she hasn't already been working with an attorney). The hearing before a federal ALJ is usually handled via a video hookup. The Good News: The chances of success increase dramatically at the ALJ level because the judge will look more carefully at the law and facts. More Good News: If Mrs. Cleaver wins, she should receive a reimbursement of all that she had to pay Mossy Mountain while Ward would have been eligible for Medicare had they not made the incorrect decision.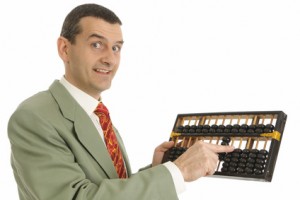 That is a fair question. As anyone who has not been in a coma the past six months knows, there has been a bit of a fiscal crisis affecting the government. Two sides of the equation are in contention:  Cut spending or raise taxes. The likely outcome will be a compromise involving some of both. How could spending cuts affect nursing home Medicaid?
Nursing home Medicaid benefits is an easy issue to "demagogue." During the run-up to the Deficit Reduction Act back in 2005, a common rhetorical question posed by politicians was, "Should Medicaid be an estate planning tactic for rich seniors?" I will not waste space with taking apart that ludicrous statement.
The fact of the matter is that Medicaid HAS become a primary financing mechanism for the middle class (Remember them? The folks who until November 6 everyone running for any office was so worried about?). I have also written that Medicaid has morphed into a strange system and ought to be scrapped . . . in favor of something else. I even proffered a suggestion.
In order to "scrap Medicaid in favor of something else," however, there needs to be something else. Addressing the problems simply by slashing the program and without offering "something else" will simply exacerbate the problem and leave many middle class seniors in a terrible bind.
Slashing and Gashing Medicaid
What might Medicaid cuts look like? Over the past couple of months there have been some hints.
HR 6300.  On August 2, 2012, five Republican representatives filed HR 6300 entitled "Medicaid Long-Term Care Reform Act of 2012."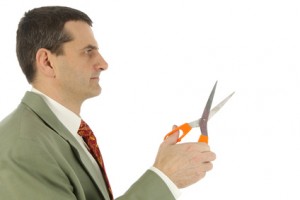 Admittedly it offered "something else" – namely clean-up long term care insurance and buy that. That is not without problems because many folks are simply not insurable and the LTC insurance market has been a mess.
The Bill then provides that it is the "sense of Congress" that the federal and state governments should work to reduce the number of "middle-income individuals" who rely on Medicaid and give states the flexibility to change eligibility rules to Medicaid for "poor Americans who need it most."
The Bill also calls upon the federal and state governments to evaluate the effectiveness of estate recovery programs and for the Congressional Budget Office (CBO) to evaluate the effects of a drastically reduced exemption for home ownership protection.
Finally, the Bill calls upon the CBO to cost out the effects of changing the current gifting "look back" period from 5 years to 10 years.
For those who love details . . . you can look at the HR 6300 HERE.
September 14, 2012 Congressional Letter to Governors.  A month later, the same representatives sent a letter to all state governors. They told the governors that "Unfortunately, federal rules weaken Medicaid's program integrity by forcing states to exempt more than half-a-million dollars in home equity and the entire value of a Rolls Royce when determining an individual's eligibility for these welfare benefits." Remember what I wrote about demagoguery above? Note to all clients and visitors: I really have a problem with clients parking their Rolls Royces on the Mason Law parking lot . . . it is soooo embarrassing!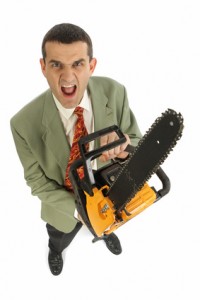 The letter then poses a series of truly insightful questions, such as: "Should the federal government give states greater flexibility to consider assets?" or "Do you consider Medicaid estate planning to be a significant problem?" Find me a governor who answered "NO" to both.  Also, see again my comments regarding demagoguery.
I've posted the September 14 letter HERE.
CMS Questionnaire.  But wait! Let's not blame Republicans.  About the same time the Centers for Medicare and Medicaid Services (CMS) sent a very detailed questionnaire to state Medicaid directors. The document is 18 pages of questions regarding Medicaid eligibility rules and estate recovery rules, many of which have the phrase "and if not, then why not?"  The overall tone is about the same as the September 14 Congressional letter. Yep . . . I've posted that, too: HERE.
Incidentally, CMS as an agency of the Department of Health and Human Services is decidedly NOT a bastion of Republicanism . . . so the belt tightening cuts across party lines (political rhetoric notwithstanding).
Going Forward For You
Plan ahead! Any future changes will likely take a prospective "going forward" approach. Plan ahead! Really!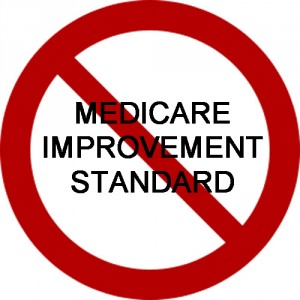 The false Medicare "Improvement Standard" under which the Medicare program and its payment contractors have sought to deny nursing home and other benefits for individuals who "fail to progress" or who have "plateaued" is about to be buried. The funeral is scheduled sometime after the first of the year. Good riddance.
Almost two years ago I wrote (see Busting the Medicare "Plateau" Myth that nursing homes, Medicare payment contractors, and Medicare appeals contractors were incorrectly applying federal law to require patients and residents to show progress under treatment in order to continue to be eligible for Medicare nursing home benefits.
Federal law requires no such standard.
Settlement Agreement Ends the "Improvement Standard"
As I reported, a number of federal cases were "percolating" through the system and had potential to clarify the errors. One such case is Jimmo v. Sebelius, No. 11-cv-17 (D. Vt.), filed January 18, 2011.
On October 16, 2012, the Centers for Medicare and Medicaid Services (CMS) and a class of affected plaintiffs agreed to a settlement agreement in the Jimmo case and submitted it to a federal judge for final approval.
An October 24 New York Times editorial, "A Humane Medicare Rule Change," noted the proposed settlement reverses an "irrational and unfair approach to medical services" that developed "over decades because of Medicare's fragmented and loosely administered process for handling beneficiary claims." The editorial praised the settlement as "clearly the humane thing to do for desperately sick people with little hope of recovery."
What It Could Mean For You
When the Jimmo settlement is approved sometime in the next few months CMS will be required to take definite steps to end the erroneous standard on a national level. This will involve a nationwide educational campaign to inform health care providers, Medicare contractors, and Medicare adjudicators that they should not limit Medicare coverage only to beneficiaries who have the potential for improvement. Instead, providers, contractors, and adjudicators must recognize "maintenance" coverage and make decisions based on whether a beneficiary needs skilled care that must be performed or supervised by a professional nurse or therapist.
CMS recognizes that the settlement does not change the underlying law and regulations governing the Medicare program. Because the underlying Medicare law has not changed, nursing homes and other health care providers should implement the maintenance standard now.
Because Jimmo will be certified as a nationwide class, it could have implications for people in both North Carolina and Georgia.
That is because the settlement establishes a process of "re-review" for Medicare beneficiaries who received a denial of skilled nursing facility care and other services as a result of the of the Improvement Standard after January 18, 2011.
Shortly after the federal district court approves the settlement, CMS will announce how beneficiaries can invoke the re-review process. Updates will be posted on the Mason Law, PC, website as more information becomes available.