Archive for the 'Special Needs Planning' Category
Recent Question: Bob, is it OK for the trustee of a special needs trust to purchase a $2,000 pure bred spaniel for the trust beneficiary, Edwina?
Recent Answer: Only if Edwina is not planning on eating the dog. I'll explain. First, you'll need to understand the SSI income rules and what In Kind Support and Maintenance (ISM) is. Distributions from a special needs trust might be income! The trick is in understanding how income is counted and what it does.
What is SSI?
Supplemental Security Income, or SSI, supplements the income of disabled persons or those aged 65 and over who meet certain low asset tests and have countable income from all sources less than $698 monthly. SSI will insure that a person's countable income from all sources, when combined with an SSI benefit, will equal the Federal Benefit Rate or "FBR" (which for a single person is $698). See the complete FBR chart elsewhere on this website. For example, if a single person's countable income is $500, then SSI will pay $198.
Usually the amount of SSI is not as important as the fact that someone is eligible to receive any SSI. In most states (including North Carolina and Georgia) receiving even $1 SSI will entitle the person to Medicaid (which for a disabled individual can be a life saver).
How Income Counts in SSI
An SSI eligible individual may not have countable income in excess of the FBR. Countable income will reduce the amount, dollar-for-dollar, that SSI pays. Income includes all amounts received from wages, other public benefits, annuities, gifts (in the month of receipt) and other noncash items such as food and shelter (or payments made for those expenses).
When calculating countable income, the first $20 of income from all sources is disregarded. Thereafter, the first $65 of earned income is disregarded, and after that one-half of earned income in excess of $65.
SSI Earned Income: Can Edwina Work A Little?
Maybe a little. For example, if Edwina, a disabled individual, occasionally answers phones at a local charity and earns $1,200, she will be eligible for $55.50 monthly SSI payments. Let's do the math: Edwina earns (meaning she works for it) $1,200. Subtract $20 from $1,200 to get $1,180. Subtract the first $65 of earned income from $1,180 to arrive at $1,115. One-half of $1,115 will be the income excluded ($557.50). So, in other words, Edwina's countable income is $642.50 ($1,200 minus $557.50). Accordingly, Edwina's SSI benefit is $698 (the maximum SSI benefit) less $642.50 (countable income). She will receive a monthly SSI check equal to $55.50.
SSI Unearned Income: Can Edwina Receive Cash?
Maybe a little . . . a VERY little. Instead of working, say Edwina receives a $1,200 cash distribution from a special needs trust (or even from a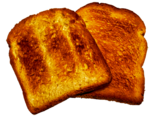 well-meaning friend or relative). SSI considers this unearned income (after all, she didn't earn it). That means there are no earned income exclusions. $1,200 cash distribution, less the general $20 disregard yields $1,180. That is Edwina's countable income. $698 (maximum SSI benefit) less $1,180 yields . . . TOAST. Edwina is toast! No SSI benefit.
What happens if instead of cash, the trust pays for certain items for Edwina?  Say, for example, the trust pays for clothing, food, computer equipment, prescription drugs or therapy, entertainment, travel . . . or even a pet.
In-kind Support and Maintenance (ISM): Can Edwina Receive "Other Stuff"?
Now to the matter at hand: Can the trustee of the special needs trust buy the fancy dog for Edwina? It depends. Is Edwina planning on Fricasse of Fido (er . . . a feast) or is she planning for the emotional comfort that can only come from the unqualified love of a furry companion? The answer to those questions will determine whether Fido is In-Kind Support and Maintenance or ISM.
Sometimes trusts and other people give a disabled beneficiary certain non-cash items, or pay for non-cash items on behalf of the individual. If such an item is classified as ISM it will reduce SSI benefits. The amount of the reduction may not matter . . . or it could result in the beneficiary losing all SSI (and Medicaid). Of course, if the item is not ISM, it doesn't matter how much it is worth as long as it is a non-countable asset for SSI purposes.
Items related to food and shelter are ISM. For example, rent or mortgage payments (shelter), utility expenses (shelter), groceries (food), restaurant food certificates (food), property taxes (shelter), or a Christmas gift from Omaha steaks (food) are all ISM. (Interesting side note: Cable, phone, and internet are not ISM).
If Edwina is planning on eating Fido, Fido's value ($2,000) will be ISM. On the other hand, if Edwina does not intend to eat Fido, he is not ISM.
What Does ISM Do To SSI Benefits?
It depends. One of two rules could apply, depending upon the beneficiary's living arrangement. If the beneficiary is living in the home of another for at least one continuous month and receiving both food and shelter without contributing her pro rata share of those costs, her SSI benefit is lowered by one-third of the FBR (or $232.67 in 2012). This is called the "value of the one-third reduction" or "VTR" rule (I have no idea where they get "VTR").
The problem with the VTR rule is it is "all or nothing." If the rule applies, the beneficiary's SSI is reduced $232.67 regardless of the actual value of the food and shelter received. If someone is receiving $698 SSI, the reduction to $465.33 might be a good deal (especially if the food and shelter is high quality).
Two conditions must be met for the VTR rule even to apply: (1) living in another's home rent free, and (2) receiving free food. If those conditions aren't met, the rule doesn't apply.
If the VTR rule doesn't apply, then the "presumed maximum value" or "PMV" rule applies. Under this rule, if the beneficiary receives any ISM during the month, the value of the ISM is "presumed" to be $232.67. "Presumed" means that if the beneficiary can prove that the ISM wasn't worth $232.67, the SSI benefit will be reduced only by the actual value of the ISM. On the other hand, if the ISM is worth more, the value is still "presumed" to be $232.67 and the SSI will be reduced accordingly.
As For Fido . . .
So . . . if Fido (worth $2,000) is meant for the dinner table (gross), he is ISM. If Edwina's SSI is more than $232.67 and she doesn't have other offsetting earned or unearned income, then she'll be OK (other than, I presume, a bit of indigestion). On the other hand, if Edwina's SSI is less than $232.67 and Fido is ISM (food), she is . . . .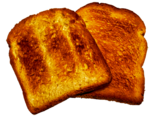 FOR FURTHER READING ON TYPES OF SPECIAL NEEDS TRUSTS, SEE A GOOD ARTICLE ON THIS WEBSITE.
A Plain English explanation of why Medicare can (and should) grab part of your worker's comp or court settlement . . . and what to do about it!  Give me five minutes!
I proudly told my 94 year-old Mom and 15 year-old son that I had just been awarded something called a "Medicare Set-aside Certified Consultant" designation by the International Commission on Health Care Certification. My mother exclaimed, "I am SOOO proud of my son!" My son raised an eyebrow, gave me a knowing nod and exclaimed, "Dude!" They both then wondered, "But what does THAT mean? What is Medicare secondary payer?" I think I explained it to my mother. After 5 minutes, my son said, "That's OK, Dad . . . ."
This "plain English" explanation is for folks like them.
The Case of Theodore Cleaver
Theodore Cleaver was seriously injured in a work-related accident. Four years later his worker's comp lawyer managed to secure a lump sum worker's comp settlement of $450,000. Also of some relief to Theodore was that he was determined to be disabled by Social Security and was covered by Medicare starting about two years ago – which was a great help with his serious and ongoing medical bills.
The Case of Kitten Anderson
Five years ago Kathy ("Kitten") Anderson received life threatening injuries after being side-swiped by a tractor-trailer rig owned by a national trucking line. Her personal injury attorney is about to settle the case for $1.5 million. Kitten never applied for Social Security Disability and is not on Medicare as a result (but fortunately she had a group health plan for most of the time). Kitten is 64 and will suffer from accident-related side effects for the rest of her life (which will likely be shortened as a result of her injuries).
What Do Theodore and Kitten Have In Common?
Medicare! Theodore is on it, and Kitten will be soon. Federal law has required for many years that Medicare is always (well . . . almost always) the payer of last resort for medical and surgical bills. If some other company or insurer is legally on the hook and can be reasonably expected to pay soon, Medicare will not pay until the other legally obligated party has paid up. Think: No double-dipping.
Conditional Medicare Payments
If the other party cannot be reasonably expected to pay soon – perhaps there is ongoing litigation in which the other party is denying any liability – Medicare will pay for covered medical expenses that are injury-related for an otherwise eligible person. Medicare, however, will insist on being paid back once the parties settle the case and figure out how much of the settlement represented compensation for past medical expenses. In fact, Medicare can be as tough as the IRS when it comes to getting itself paid back. These interim payments are called "conditional payments" because they are . . . well . . . paid on the condition that Medicare will eventually get paid back if any later funds surface that represent payment for medical expenses.
Medicare paid a great deal on behalf of Theodore while he was waiting for his worker's comp case to settle. Those "conditional" Medicare payments were certainly welcomed by Theodore and his doctors, but if Medicare is not handled carefully and correctly Theodore could lose future Medicare coverage, lose a great deal of his Social Security Disability Benefits, and possibly be ineligible for Medicaid if he needs to go to a nursing home. The problems don't stop there. If Theodore's worker's comp attorney and his employer's worker's comp insurance carrier don't handle Medicare correctly, Medicare can come after them for the repayment of the conditional payments. In fact, the insurer could be on the hook for double! Nobody happy.
Commutation: A Fancy Word For 'Looking Ahead'
What both Theodore and Kitten need to be concerned with is that Medicare will not pay for any future medical services if some other entity has paid, or will be paying, for those services. Both Theodore and Kitten have received settlements that contain at least some money meant to pay for future medical expenses.
The Medicare Secondary Payer Act not only gives Medicare the authority to seek (how about "take"?) reimbursement for conditional payments already paid, but to set-up systems to insure that it does not pay for future medical care that has been paid for in advance by some other party at the time of a workers comp or personal injury settlement.
No one knows what the future holds, particularly with regard to medical care. Once a defendant or an insurance company has been found liable for future medical care related to an injury the insurance company/defendant can (A) make payments for future medical services for the next several decades until either Theodore or Kitten have died, or (B) try to come to some sort of agreement on a lump sum they can pay to cover future medicals, and then ride off into the sunset never to look at Theodore or Kitten again. Any sane defendant/insurance company will opt for Option B. Option B is referred to as a "commuted payment" and the whole process a "commutation of medicals."
Medicare takes a keen interest in commuted payments because the law prevents it from paying for services that someone else has already paid for.
Looking Back – Looking Ahead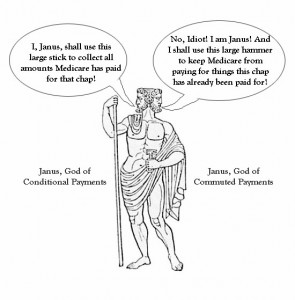 My friend and colleague John Campbell, a great elder law and Medicare Set-aside Certified Consultant in Denver, has come up with a great explanation. The Medicare secondary payer process is like the Roman god Janus. Janus was a two-faced fellow, sometimes thought of as the god of new beginning, as well as doorways and arches. He looked back, and he looked forward.
Medicare does the same. It looks back to collect conditional payments already made for services that are later paid for by another, and it looks ahead to insure that it is not paying for services that were covered in a commuted payment for future medicals.
The law requires all parties to a workers' compensation, a personal injury, or medical malpractice settlement to make "reasonable" provision for the interests of Medicare. There is a fair amount of guidance for workers' comp parties to rely upon when satisfying themselves that they have looked after the "reasonable" interests of Medicare. There is very little to rely upon in the area of personal injury or medical malpractice . . . other than government statements that they expect everyone to look out for Medicare's best interests. The penalties for being wrong are drastic.
As mentioned above, the collection process can be brutal. If settlement funds representing conditional payments are paid or spent before Medicare has been reimbursed, Medicare will come after the Medicare beneficiary (Theodore or Kitten), the lawyers, the insurance companies . . . just about anyone who has had anything to do with the settlement. Medicare will look for the deep pockets.
The Cummutation Clawback
If Medicare believes that it has paid for services that were also the subject of a commuted or settled amount, Medicare will stop paying for any injury-related medical care until an amount equal to the entire settlement has been expended on injury-related services that Medicare would ordinarily pay for. That can be an absolute catastrophe for an injured individual with high medical costs and no other source of payment. Think of it as being smashed by Janus' Big Hammer. The personal injury/workers' comp attorney who messed it up can think of it as malpractice!
The Settlement Dilemma
If settlements represented nothing more than payments for medical expenses already incurred and for future medical expenses (and you make the added assumption from Never-Never Land that Medicare covers all medical expenses), the situation would not be too difficult:  Call Medicare, find out how much it has paid in conditional payments, then set aside the rest of the settlement and use it to pay for medical services (remember, Medicare would have paid for everything in this make-believe place). When the money is gone, show Medicare how the money was spent and then Medicare kicks back in.
In the real world, however, settlements often represent several different elements. In the workers' comp arena the injured worker is paid for lost wages ("indemnity"), in addition to medical expenses. In the personal injury/medical malpractice arena settlements often represent compensation for pain and suffering, lost income, and punitive damages . . . in addition to past medical expenses and future medical expenses.
If Medicare's interests have not been reasonably considered and provided for, Medicare will consider the WHOLE settlement as compensation for conditional payments, and then when those have been covered, anything left will be applied to future medical expenses before Medicare will pay a dime.
To add to the nightmare, if the plaintiff is also depending on Medicaid, Medicaid will consider the whole settlement as available and not pay anything as long as the individual is holding the settlement. Good planning would prevent this.
Allocation Magic
The trick is to carefully (and reasonably) allocate the settlement among indemnity or lost wages and income, pain and suffering, punitives, and medical expenses (past and future). If Medicare believes that it has not been reasonably considered, it will ignore the whole allocation and treat it as all for medicals.
The process involves careful negotiation with Medicare regarding what represents amounts paid by Medicare as conditional payments, and preparing detailed allocation reports showing that a reasonable medical plan of future care has been considered and money allocated (set aside) to pay for those future medical costs. The process is multi-disciplinary and involves attorneys familiar with the legal ramifications and the process, medical personnel who understand the process and who can prepare allocation reports, and insurance professionals if the settlement is going to be paid out as an annuity (periodic payments over time, also known as a "structured settlement").
Medicare has a fairly detailed system for reviewing workers' comp allocations. There is no similar system for reviewing personal injury/medical malpractice settlements . . . which has lulled many attorneys and their clients into believing nothing needs to be done with those types of personal injury settlements. What an expensive mistake. The agency that runs Medicare (Centers for Medicare and Medicaid Services or CMS) has repeatedly cautioned that Medicare's interests must be taken into account. As government budgets tighten, look for aggressive collection techniques.
Often, if not usually, the best way to insure proper future administration is to drop the commuted medical settlement amounts into a trust, and turn it over to a competent third party administrator who can handle proper payment of "otherwise Medicare covered" medical expenses and make the necessary reports to Medicare.
But Wait! There Is More!
If the individual receiving the settlement plans to finance future care with the settlement, Medicare AND Medicaid (and perhaps even Supplemental Security Income or SSI) then there is the added complexity of continuing to qualify in spite of receiving the settlement. At that time the only alternative is to fund a trust that qualifies in such a way to keep Medicare's Lord Janus happy, while at the same time qualifying as a Medicaid/SSI special needs trust.
And So . . .
That, Mom and Bobby, is why I became a Medicare Set-aside Certified Consultant. There are very few attorneys who understand the whole process and can also address the special needs issues involving disabled clients. It also makes me feel even more socially useful because I am helping other attorneys and their injured clients, as well as doing my bit to prevent duplicate payments by Medicare (we all have an interest in the continued financial viability of that program).
According to conventional wisdom you should always name your spouse as beneficiary of an IRA. Let's smash some traditional pumpkins (I am writing this in October, after all). Read on to understand why it might be a great idea to name a trust as the beneficiary of an IRA and what some of the trade-offs of doing so are.
Standing on Tradition: Naming The Spouse As IRA Beneficiary
There really is a good reason for naming the spouse as IRA beneficiary . . . much of the time. As I have written, the beauty of an IRA is that the longer money can be allowed to languish in an IRA, the more it will grow without being burdened by taxes. Because of that, the usual thinking is to try and take out as little as possible. On the other hand, there are all sorts of tax rules about when someone MUST take distributions and how much those distributions must be. Remember the rule:
SOMEDAY, SOMEHOW, SOMEONE WILL PAY TAXES ON THE IRA.
Why Naming A Spouse The IRA Beneficiary Is So Slick (Usually)
If a spouse "inherits" an IRA, she can treat it as her own. This means she does not have to begin distributions until she is 70 ½. When she does begin taking distributions she can use a special table that assumes she has a husband 10 years younger (heh, heh, heh) even though she may have just become a widow. That means MUCH smaller mandatory distributions because they are being spread out over her life and the life of Mister-Make-Believe-Ten-Years-Younger-Romeo.
The special spousal rules for inherited IRAs also say that she can name the kids as beneficiaries and upon her death they will have separate IRAs they can take out over their life expectancies (although I have found – quite nonscientifically – that most IRAs inherited by adult children quickly become new cars or tuition payments!).
On The Other Hand . . .
Sometimes naming a spouse as IRA beneficiary is a bad idea. There may be reasons that outweigh the usual good tax reasons for naming a spouse. For example, I often encounter couples concerned about protecting assets for a surviving spouse in case he or she ever needs to go into a nursing home. An IRA left directly to a spouse will be a countable asset for Medicaid purposes. There may be other good asset protection motives involved, as well.
The solution may be to name a trust as the beneficiary of the IRA. That way, IRA assets may be protected while remaining available to benefit the surviving spouse.
There are a number of ways a trust can be designed, depending upon what the client and I are trying to accomplish. Much of how a trust will be treated depends upon whether it is something the IRS calls a "designated beneficiary."
Is A Trust A Designated Beneficiary?
If a trust benefits only real live (as in "beating hearts living") people then the trust will be a "designated beneficiary." If a trust says "Mom is the primary beneficiary, then the kids" that will suffice. If the trust says "Mom may receive some, but not necessarily all benefits, then when Mom dies the North Carolina Zoo takes" the trust will not be a designated beneficiary.
If a trust is NOT a "designated beneficiary" of an IRA, then the IRA must be distributed within five years if the owner dies before 70 ½. If an IRA is not huge, being forced to completely distribute it within five years is not necessarily bad.
If the owner dies after age 70 ½, however, then the trust can take distributions over what would have been the deceased owner's life expectancy had he been alive each year. That actually will be a bit faster than if he had been alive and married because the rules use different tables that calculate distributions as if the deceased owner were still alive and single. On the other hand, for older spouses about the same age, there may not be too much difference. The difference is if Mom had inherited directly she would have used a table that pretended there was the "Ten Year Younger Romeo" (slower distributions to account for the younger Romeo's added life expectancy) but the trust is stuck with using a single person's table (faster).
Bottom line: If a trust fails the "designated beneficiary" rule it means the IRA must be distributed over five years if the owner died before age 70 ½ and over the owner's life expectancy (pretending he is alive and single) if he dies after age 70 ½.
Should Everything Be Distributed To Mom?
If we set up a trust to qualify as a "designated beneficiary" the next issue is to decide whether to make the trustee pay out to Mom all of the distributions the IRS says the trust MUST take from the IRA (this is called a "conduit trust"), or to let those IRA distributions accumulate inside the trust (where they are protected).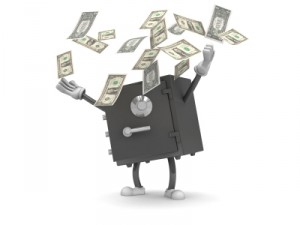 If the trust is a conduit trust, Mom gets all IRA distributions and she pays all income taxes (probably at her low tax rate). Also, if a trust is a conduit trust the IRA distributions can be stretched out a little bit more than if the trust was an accumulation trust. It also means that if Mom goes to the nursing home on Medicaid, all of those IRA distributions will be paid to the nursing home before Medicaid kicks in.
If the trust gives the trustee the right to accumulate IRA distributions and to decide whether to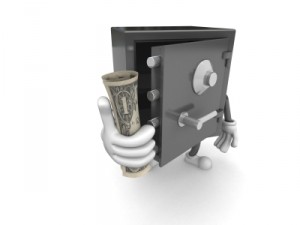 pay some, all, or none of the IRA distributions through to Mom, the IRA will be distributed to the trust slightly faster, but the assets will be safe from nursing home expenses. To the extent the trustee decides not to distribute to Mom (maybe she is in a nursing home on Medicaid) the IRA distributions being held in the trust will be subject to income taxation at much higher rates than Mom would have paid had the trustee passed the IRA distributions on to Mom. On the other had, if they were paid out to Mom, everything would be gone!
Get Help!
This is a complex topic. The purpose of this brief article was to give an overview of the possible advantages of naming a trust as IRA beneficiary. Sometimes it is a great idea, and other times it may be a really bad idea. Bring it up with your attorney or financial advisor and see what she says.